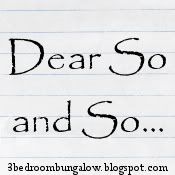 Oh, double duty post today! I've got Dear So and So AND the shoe show going on today! My 2 favorite things rolled into one day: griping and shoes. Woohoo! Let's start with DS&S, shall we?



Dear Creativity/Inspiration,
I appreciate that you visit me, I really, really do. I realize that you don't work on any particular schedule and come whenever you feel like it, but could you please just do me on, itty, bitty, teensy, weensy favor? If it is at all possible, could you please, oh please, make your visits a little earlier in the day? Getting the urge to make invitations/empty toilet roll torches/braided whips/etc for Indy's b-day party at 11pm is so not cool. You know I can't go to bed while you're rattling around in my brain. Would it really be so bad to strike around, oh say, 1pm? I'd really appreciate it because right now, you're kind of keeping me up late. Can you manage that? KTHNXBYE!
Tired,
MIHH



Dear George Lucas,
You might get it from the title of this post that I am something of a Star Wars fan. Return of the Jedi came out when I was 10. It was my favorite movie forever. I so loved Han Solo. It could have something to do with my pre-pubescent crush on Harrison Ford, I don't know, but I loved that movie. In fact, I loved ALL of the original Star Wars movies. Yes, the special effects are terrible by today's standards, but for their time, they were freaking amazing. I was (and still am) so disappointed with the "prequels." You wrapped Star Wars around trade tariffs? WTF? Even with all the high tech special effects, they just weren't good. TRADE TARIFFS?
I understand you have a Star Wars TV series in the works. If it's anything like that travesty that was "The Clone Wars" I would appreciate it if you would just stop right now. Don't you have enough money? Must you continue to poop all over my childhood memories? The characters I loved are now all wrapped up in these horrible animated versions that have nothing of the originals in them. Please, for the sake of all those wonderful memories, just let Star Wars go. Let it live on in cinematic history,but leave it alone.
Disgusted,
MIHH





Dear House,
Look, we've got to come to some sort of agreement here. I've put things away, I've wiped things down and I washed things. Why are you still a mess? Can't you help me out here? This is just getting crazy. I'm thinking of moving because you won't get your act together. Then what? You'll get someone in here who doesn'tmake you look pretty, that's what? Is that what you want? Is it? Get your shiznit together!
Disgusted,
MIHH



Dear Idiots Parents of children that you can't handle but are totally "desperate" to have another one,
First off, you need a shorter moniker. Secondly, I am sick to death of you. Why, oh why, do you want another child when you avoid the one you have at all costs because s/he is a holy terror? You gripe and moan about how much work s/he is and how tired you are and how you're just burned out at the end of the day. Do you think it will be easier if you add another one to the mix? I'm pretty sure it won't. Yes, babies are cute and adorable, but they grow up and turn into what you already have. Please, do us all a favor and do not inflict another child you "can't handle" onto the world.
Mother of 1,
MIHH


Now, onto the shoe show!!!!! You know I've been waiting for this right? It was really, really,really hard to figure out which shoes to show you. This isn't even the tip of the iceberg, but I went for a spring/summer feel. Did you know that I have 62 pairs of and boots? Shhhh. Don't tell M. Did you also know it's really hard to take good photos of your own feet? It's true. Try it. I took photos in my shoes because, shoes must be on a foot to be truly appreciated. Ah, enough of this chit chat, let's look at some shoes!
The first 2 pair I wear quite a lot. The heels are just gorgeous on the first pair, and who doesn't need a cute pair of red wedges? Nobody!
The first pair have about a 2 inch heel to them. Cute huh? The second pair are Anne Klein that retailed for $90,but TJMaxx had them for $45, but I scored them on clearance for $15! Bargain! And just look at that toe cleavage! Proper shoes with a bit of sex to them!
These are some of my all time favorite shoes. Both pair! Aren't they to die for? They are fuzzy, which is hard to tell in the photos, but trust me. They also have gorgeous candy apple red bottoms. And really good toe cleavage.
These two are my "go to" shoes. If I'm running out the door and need some shoes, I'll go with one of these. The first pair are the ones I wear most. I have a brown pair almost identical, but without the buckles.
When I'm feeling very Sex and the City, I can wear the first pair, and when I'm felling 1940's Pearl Harbor, I can wear the second pair.
I love the first pair here. Very comfy and the second pair,well,every girls needs a good pair of sneakers. :) I have 4 other pairs of high/heel or wedge sneakers too, but these are my favorties. Look at that color! BTW, my shoes do actually fit me. They look big because of the way I was leaning over and putting pressure on the balls of my feet so I could get the pics.
Oh, I've had this pair for years! Aren't they adorable? They're so cute, I had to take 2 pics.
Indy picked out the first pair here when he was about 3 and a half. He liked the bugs on them. I bought the second pair at the same time, because you need a little bling sometimes and what's more bling-y than gold lame heels studded with faux stones? I feel like JLo (minus the bootay) when I wear them.
Aren't they all lovely? I'd love to show you all of my shoes, but I'm afraid it would use up all of bloggers bandwidth.
Have a lovely weekend and thanks for stopping by. Do you have a favorite pair from the photos? Let me know in the comments!