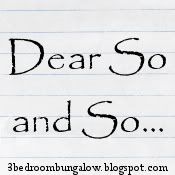 Oh, gosh, it's Friday already??? Hurrah! The first Friday of 2011! A whole new year to find new stuff to gripe talk about.



Dear New Year,

I have high hopes for you. Don't let me down.

Expectantly (in more ways that one!),
MIHH



Dear Weather,

You suck! I loved all the snow we had recently, but what's up with the rain? All the snow is gone and in its place is muck and mud. It's January, for goodness sake. January means snow! Bring back the snow! Indy can play in the cold and snow. He can't play in the cold and rain. That means he sits inside and moans about the fact that he can't go out and play. Not cool.

Bring back winter,
MIHH



Dear Christmas Tree,

You've only been gone a day and I miss you already. I'm happy to have the house back to "normal" but your pretty lights ornaments were so lovely. I can't wait to see you in 11 months.

Fondly,
MIHH



Dear Han Solo,

I know little brothers like to do things their big brothers do, so maybe you think that because Indy was born early, it's something you should try, but really, this is too early. You need to cook a good deal longer, so if you could just take it easy, I'd appreciate it. You're stressing everyone out.

Willing to wait to meet you,
MIHH



Dear Everyone Else,

I appreciate your concern, but I'm not made of glass. I CAN actually get up and do stuff. It's all good. If I need to sit down, I will. I promise.

Appreciating your concern,
MIHH



Dear Brownies (the dessert, not the scouts),

I bless you and the person who invented you. You are a culinary miracle of epic proportions. There is nothing so bad that a brownie can't make better. Headache? Eat a brownie. Tired? Eat a brownie. PMSing? Eat a brownie (or 3). Having contractions too early? Eat a brownie. Weather suck? Eat a brownie. Heartbroken? Eat a brownie. Pants don't fit? Eat a brownie. They don't fit anyway, why deny yourself? There is almost nothing a good brownie can't fix.

Chocolate faced,
MIHH


Ah, I feel better. I suppose I should put down the brownie and get off the interwebs (wait, wait, let me stop laughing) and go work on stuff for James Bond'sb-day party tomorrow and Chiquitita's baby shower that I'm throwing in weeks. Sigh. Maybe just one more brownie? Couldn't hurt. Head over to Kat's to read the other Dear So and So's.