I haven't been able to do a Dear So and So for a while, but this week, like the title says, I'm back baby!!!!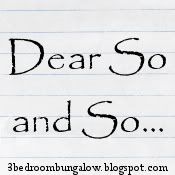 Dear Mama Mia (the movie),

I heart you so much! Apparently the Germans love you too because this is the 5th month out of the last 11 that you've been a featured movie on the movie channel. It's in English!!!! Fortunately (for me) Mr. HH and Indy both love it too and will watch it any time it's on. I always wonder why there isn't a soundtrack for my life. How awesome would that be?

The Dancing Queen (young and sweet),
MIHH



Dear Heel Spur,

I hate you. A lot.

Painfully,
MIHH



Dear worker bees removing the asbestos from our attic area,

OMG! 7 am? Are you kidding me? Do you KNOW how loud you are? I know you're just doing your jobs, and that's cool, but 7am until 4pm M-F? Really? Really? I feel like I'm going crazy. Indy can't concentrate on school work and I'm seriously thinking of Irishing up my tea in the mornings.

Head poundingly,
MIHH


Dear fresh baked chocolate chip cookies,

QUIT. LOOKING. AT. ME. LIKE. THAT. Yes, you're ooey, gooey delicious, but I cannot eat all of you, no matter how much I'd like to. The dollar to euro rate blows right now and I can't afford (nor do I want to) buy bigger pants, so please, cut me some slack.

Hungrily,
MIHH


Dear Exchange Rate,

You are seriously sucking right now. When the Euro first came out in 2002 the exchange rate was about $1.60 to 1 Euro and now it's $0.65 to 1 Euro. WHAT???? Do you know how much that makes stuff at IKEA? Come on!

Poor,
MIHH



Dear blogger,

Why can you not make the Euro symbol? Or accept it from MS Word? That's really annoying. I hate typing out Euro all the time. It would be so much easier to make the curved capital E looking thing.

Still poor and now annoyed,
MIHH


Dear house,

How many times do we need to have the discussion about cleaning yourself up?

Disgusted,
MIHH


Dear Edward,

You're mine. Don't be swayed by any of those other bloggers. Especially Cammie. I'm the one. Me.

Obsessively,
MIHH


Dear Johnny Depp,

Same goes for you. I'm willing to cut you a bit of slack because you have kids with what's-her-name, but I'm your true love. Remember that, okay? And yes, I can in fact juggle both you and Edward. Oh and Mr. HH too.

Loving you,
MIHH


Dear Meryl Streep,

You have gorgeous hair. I kind of hate you for that.

Enviously,
MIHH


Okay, I guess I'm done. Head over to Kat's to read the other Dear So and So's. You won't be sorry.